The following models are fairly unusual and the origins of some of them are unknown.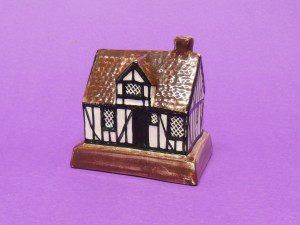 This house, mounted on a plinth, appears to be an early model, it has no markings on it and the brown  colouring is not quite the same as  usual models. It may well have been a trial piece . It was however produced from a mould, which raises speculation that there may have been a number of them actually produced. Perhaps we shall never know !
This is an addition in reply to the following comment posted on May 09 2015 by Martin regarding this model.
Hi
I have the model at the top of this page which is labelled "plinth model" and I know another local collector who also has it.
On the front of my plinth is a sticker that reads;
"Stag Portable Pub, Ayala, Suffolk England" I believe the other collector's is the same.
It also has a green baize base, which I have pulled back and there are no markings underneath.
So there are definitely three of those. I was never sure it was Mudlen, but now assume it was a promotional model for whomever "Ayala" perhaps were. I hope this helps.
This is Martin's model.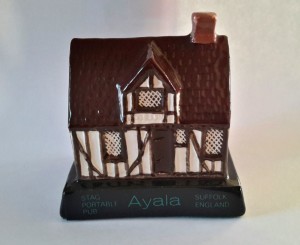 Hi Martin. Thanks for your contact. As soon as I read your words 'portable pub' I instantly had recall of my dad once talking about a 'flat pack old English style pub' that a company, I believe in Stowmarket,   was exporting to the U.S.
simply to be built out of the box. He seemed quite animated about the idea as I recall.
I didn't know he had any involvement in it but it seems now that this model is indeed  a promotional item for this product.
I believe this would have been around the late 70's.
Thanks so much in helping to clear up this small mystery.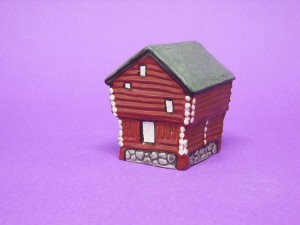 This is a sample of a Norwegian "stubbur" (Mudlen End C. 1988). The colour is unusual as it was actually  painted by the customer in Norway to represent the colour that he required on the finished item.  As far as I am aware this is the only style of model produced for this customer and as such did not become part a set.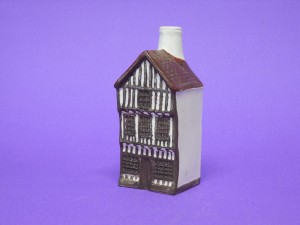 Ceramic Bottle.
This item may also have been a trial piece. It is similar in design to the 'Delft KLM blue houses'. But of course in an English timber house style. This is speculation on my part, but the idea may have evolved due to the fact that Mudlen End had a large sack of small corks ( maybe several thousand ), which were used for the 'Smelly House" series, and this would seem to be a fairly logical use for them, as stoppers in other styles of containers i.e. a  bottle.
'Pot Pics.'
These items were designed as decorative wall hangers. They are a clever design as the frames were cast in  moulds whilst the insert pictures were made separately and joined to the frame in the 'greenware' stage.
Known subject pictures are; Woodbridge Water Mill, The Bull Hotel (Long Melford), The Crooked House (Lavenham) and The Ancient House in Clare,Suffolk.
Bespoke stickers on the backs of these hangers seem to indicate they were to be produced in considerable numbers but it is unclear how many would have actually been made.
The Crock Of Gold.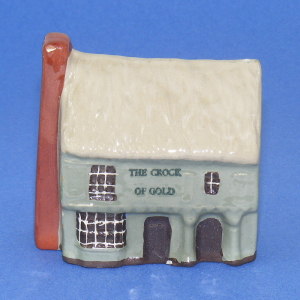 Based upon the model #27 'The Swan Inn'. It is unknown why this model was produced. Online searching has produced no results. As with many unanswered questions the answers may be in the archives at Mudlen End awaiting discovery. Watch this space !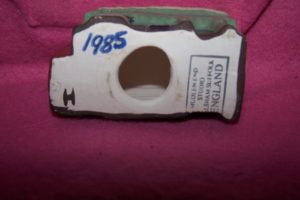 The photo above is  the base of a Crock Of Gold model on eBay in Feb. 2017. It shows a date on the base of 1985. This seems much earlier than I have always thought. At this time the business was based at Thurston and my brother was deeply embedded in the company and was  running the  manufacturing and also involved in  sales. I believe that if my father had made this model at this time my brother would at some point at least seen it or been aware that my father was working on it. It would have required  reworking of an existing  mould, having a stamp made, using an unusual coloured slip etc. and being fired in kilns twice,  It would be, in my opinion, virtually impossible for my father to have made this  without my brother being aware of it, which he is not . But , as I often say, the proof may surface when I get amongst dads archives. Maybe a receipt for the stamp or a sales invoice.
Rare Early Model.
This is a very interesting model. When I first saw one a while ago I was in two minds as to whether it was even a Mudlen End
product, it certainly looked possible as the colours were consistant but I had never seen one before and it is not part of the numbered series.
Also it is a slightly more complex shape than usual as it has a rear lean-to unlike any other model in the series.
It is likely to be a very early piece, made before the conception of the numbered series. The crazing of the glaze is quite severe but this model may be 50 years old or more, so that stands to reason.
Thanks to the great photos posted by Jacek it is possible to see an inprint of a swan above the front door, and pargetting on the upper story to the side of the windows. Another thing that I wonder about and perplexes me is the small area of paint that is missing from the black part at the rear of  the chimney.
I cannot see why that small area would not have been painted. Imagine, your brush is loaded and you have to paint that area, why would you just not paint the whole area rather than bother to leave a small piece unpainted.!!  Is this a  particular feature
of the original subject matter? If so, is this indeed a model of an actual building. ***
All the features of this model have been used in subsequent models in the series in one way or another; external chimney, bow window, swan motif and pargetting and, of course, the colour scheme. There are other features that are not consistent with the series , the black line around the base for example, on this model it does not extend right around the base. So it is safe to believe that this was a piece made by James Hart in the early years but not put into production . Maybe it was in the end a little bit too complicated, but features of it certainly were used on subsequent models. All in all a very interesting model.
***                                                                                                                                                     In the process of making the mould for my reproduction this became apparent as in fact the small white patch is actually recessed, something that cannot easily be seen in photos, but becomes a feature when handled. I now believe that this area probably represents the wall above a black door.