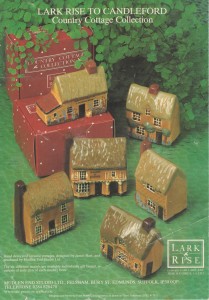 This is an original  flyer for the Mudlen End 'Lark Rise To Candleford' Collection.
When the BBC first aired the T.V. series a great deal of interest was created around the show and the book, a merchandising company was created which commissioned (amongst others) Mudlen End to produce this 6 cottage set depicting  places mentioned in the book.
They were modelled upon existing cottages in the Mudlen End series, with additional features, decoration and colours.
Top left;LR1, Candleford Green Post & Telegraph Office.
Top Right; LR4, Apple Trees.
Centre Left; LR6, Wagon & Horses.
Centre Right; LR3, Hollyhock Cottage.
Bottom Left; LR5, White Gates.
Bottom Right; LR2, Rose Cottage.
This is a scan of original hand drawings by my father of the models in the series.