My Mudlen End model of The Kings Head at Chigwell (Essex. U.K.)  looked rather sad with it's broken off chimney so I decided to see if it was possible to restore it by fashioning a new one…I mean -"how hard can it be !!!" My intention was to use polyurethane resin to create the  basic chimney shape then to carve and sand it to match the original and finally stick it onto the model and paint it.   …  I wanted to it to look like the original model but know  that it was a restoration.
I asked my friend David Purcell to send me photos of his model with dimensions to use as my reference ,which he kindly did. Looking at the photographs I realized that it was not just a simple square chimney but a rather strangely shaped one, so things got a little complicated !!
The above photos are the ones sent by David.
Things became further complicated when the resin cured and I was unable to detach it from the model ! It was going to be very hard to shape it in situ. I decided then not to fully copy the complex shape of the original but to be content with a less complicated design of my own.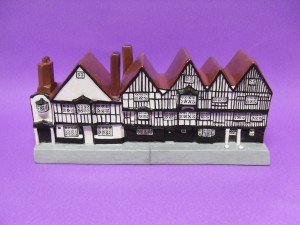 The Kings Head is the largest of the Mudlen End models. The origins of it's  conception are to date unknown. Another model is  made of the "Chigwell Cottages" so speculation would lead one to think that there was a connection at some time with someone from Chigwell and Mr. Hart.