Here are a few pieces of James Hart's hand modeled pieces. Each one a unique item. He had a liking of Suffolk Punch and Shire Horses as he grew up on a farm where these were being used .
We grew up at Mudlen End eating from bowls thrown by him on his wheel  and as potters do with their skills, he made such items as  'loving cups' for his wife and 'christening cradles' for his grandchildren, as well as things that he just felt like creating . He  had a liking for the tale of Tipu's Tiger and made several tiger/lion style models.
The 'hippy dude'  below was decorated using ceramic transfers and the petals of the flowers are the same as are on candlesticks and sheep models. The black and white is a press photo used in a magazine and the colour photo is the same model as it is today. (N.B. Fragile ! ).
James Hart made this loving cup for his 'long suffering' wife !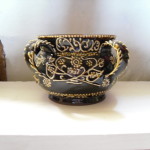 He  made christening cradles to celebrate the births of his grandchildren. This one being the daughter of his eldest son.
This sheep candlestick is a nice item, the heads were made in a small mould and the woolen coats were made by pushing clay through a garlic crusher !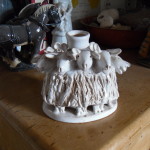 This dish was made by Mr Hart and decorated by his wife Ann. The making of these dishes is relatively simple and it is the decoration that is the main feature. This particular design is drawn in wax which then rejects the coloured slip creating the image.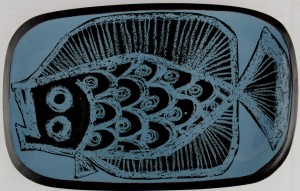 As the cottage collection became the mainstay of the business Mr. Hart had little time to create individual handmade items but he always considered himself to be a clay modeller first, rather than a company businessman.