It's interesting to note that there are a couple of models
that can have different stamps on them.
The obvious model is #33 the Pub which in total has 6 different names. This is featured at the bottom of the 'cottage collection' page.
Here are a couple of others which have come to light.
#37 has 'P.O.STORES' and also 'THE STORES'.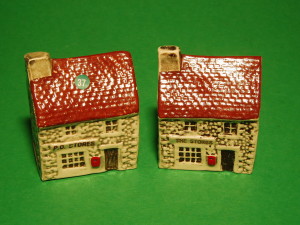 #42 has simply 'BANK' and also 'National Westminster Bank'.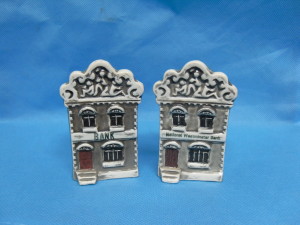 I wonder if my father had an agreement with his bank manager to only use this bank's name as it would have been easy to use the same model for several of the U.K. high street banks of the day, Lloyds, Barclays, Midland etc.
Some models display stamps on their sides, some as advertisements and others to commemorate special occasions.
Below is an example of stamps on the side of the "crooked house" #32.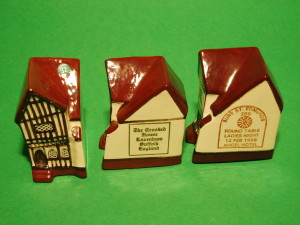 Other examples of stamps are on the Pub #33. Both of these photos are from the collection of David Mower and an explanation of the pub stamp can be read on the "Guests Collections" page.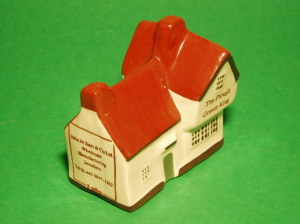 The picture below shows, once again, the Pub, #33, with a different stamp.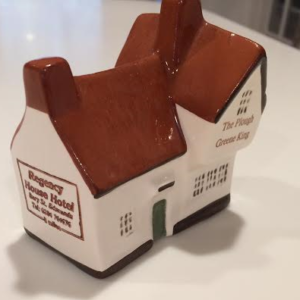 The Regency House Hotel is a hotel in Bury St. Edmunds and was a particular favourite place for our family to meet. We would go into town on a Wednesday or a Saturday ( Market days) and my father would deliver cottages to shops and other outlets, and take care of business, and my mother would drag us around shopping ! Then we would all meet up at the Regency and have what would usually turn out to be  a rather long lunch, usually meeting up with other friends.