In the late 1970's / early 1980's James Hart began a working/business  relationship with an American businessman based in California. Initially he bought and imported standard Mudlen End cottages.  A trading company was created named 'Admedia-Mudlen' which marketed products under the name of "Mudlen Originals".  He created clever marketing ideas such as display stands  and also gave the cottages other typical English style names.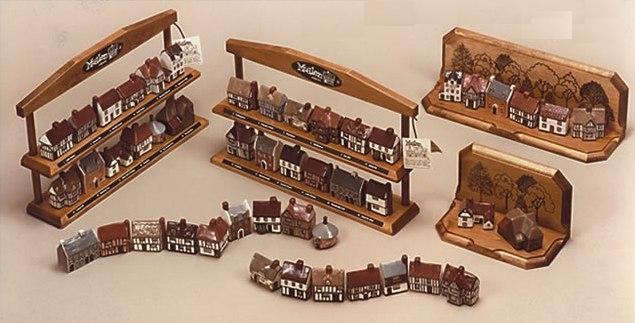 He also  saw a market for a range of iconic Western style buildings.   Mr. Hart was invited to  California to  train staff and start up production. The  set was  marketed as "Sagebrush Junction" under the  brand name "Mudlen Originals".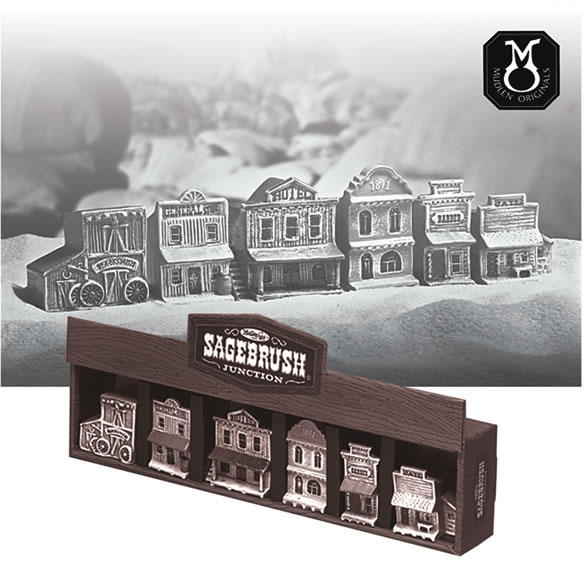 This is the first set of 6. They were very well marketed as can be seen above.
Below are photos of my own set. The hotel does not have the  name stamp on it, I have applied a label to it !
(Mouse over the images to display their titles.)
I am unsure why # S-4 is the only building without an 'identity'. I would have thought a bank would have been a good choice for a model as perhaps that is one building that is very synonymous with the "wild west", more than perhaps a barber's shop. But this of course is just my opinion.  (Actually, if you compare the S-4 model and the actual bank in the Country Cottage collection (# 42 ) there is a striking resemblance !!)
David Purcell has just resolved the above issue for me, as he has on his web site  pictures of his own collection and there is indeed a stamp on the side of model S-4 which does say "BANK".  Taking into account the following remarks about the stamps this makes sense.
Below is another marketing photo showing the second 6 models of the series.  The SM,SX and SP prefixes are more than likely  part of the marketing strategy for the series.


Below are photos of my own models. Again, some without stamps, labels applied.
NEEDED :   S-8  SAGEBRUSH JUNCTION 'APOTHECARY' ,   (pharmacy or drugstore).
NEEDED :  S-11  SAGEBRUSH JUNCTION CHURCH HOUSE.
Some of these models were retrieved from the workshop at Mudlen End, probably made there as trial or test pieces. This is why they are unstamped, as the stamps would have been in the U.S.A. at the point of production.
'Mudlen Originals' also produced a range of other items, including fridge magnets and wall hangers in the forms  of teddy bears, cats, birds, houses etc. They appear occasionally on ebay. The following are examples of such pieces.