This page is under construction/research.
I look forward to posting information and photos as and when I have the relevant information.
In the meantime I shall post some photos that I have of some models.
Below are a few photos of the model with the bell tower from my friend Eugene, a collector in the U.S.
This model, I believe, is a "rebirth"  of the Sagebrush Junction schoolhouse, it makes sense as many designs for buildings spread around the world, and this seem to be an iconic design for a schoolhouse or even maybe a chapel.
Below are  two more models from Eugene , including one that I have not seen before. The base stamps read : CARIBBEAN CERAMICS   P.O. Box 192    Ocho Rios    Jamaica     West Indies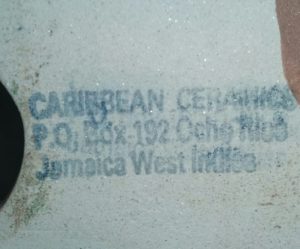 From the few photos here it is becoming apparent that there are several  colours used in the finishing of these models, and they are of a very pleasant "pastel" hue.