As with the Jamaican and the American  ventures, James Hart was approached by a business in France to produce a series of cottages in the style of typical houses from various regions of the country.
At the moment I do not have much information about this chapter of the Mudlen End story. At this time  Mr. Hart was working on his own from his workshop at Mudlen End. I'm sure that there would be information in the archives and paperwork that is at Mudlen End, but I am in Australia so I shall have to wait a while until I can access that and hopefully gain valuable details.
I can however offer the following pictures of the houses that I have, plus 1 picture from David Purcell's collection, plus 1 other, source unknown (if it is yours and you object to me using it please let me know !) These together make up a typical set of 6. There is one other which I believe to be a prototype model, James Hart was exploring the use of stamps to decorate the whole model, using ceramic ink to denote the beams,windows,doors etc.
Some of the models have name stamps, but some do not, I have scoured the web and have not been at all successful in finding the specific regions that  these unnamed houses would have come from. Although I feel the 'trial' piece does look like a house from the 'Basque' region.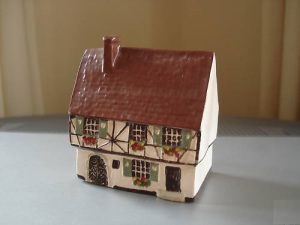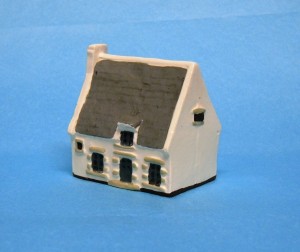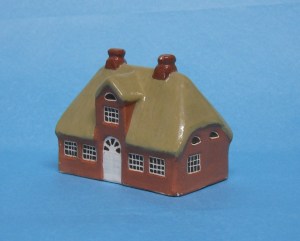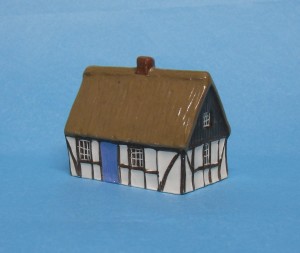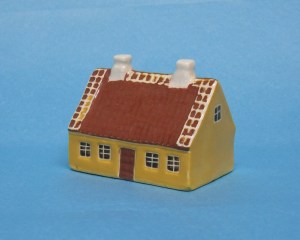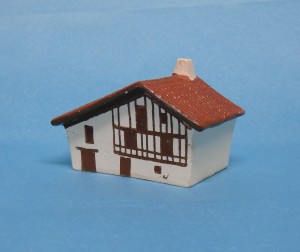 I have more information regarding this series of models which has come to light and is quite interesting. During an e-mail exchange my sister mentioned that she thought that a couple of the models were in fact based on Danish buildings. Upon investigation this seemed to be the case. Look at the nearly exact tile patern on these roofs, and the colours, its a striking resemblance ! Possibly why I had no luck at all looking for similar French styles.
There were also buildings quite similar in style to the thatched model with two chimneys.
Then two models came to be listed on eBay and showed pictures of the bases with pink stamps. The models were of the yellow building above and the thatched one  just mentioned. Interestingly the stamp itself showed a outline of a cottage which I believe to be the timbered, single chimney, thatched model.
So now it appears that from the set of 6 models, three are French and 3 are in fact Danish. I then had a memory of my father saying to me that they were going to be sold on ferries, sailing between France and Denmark. That would make perfect sense. It seems the mystery is solved although it may be confirmed by the paperwork yet to be explored.