These pages show photographs of  Mudlen End collectors sets and  items that they have kindly sent to me. It is very interesting to see other peoples models and should show up some  items of special interest which usually have a bit of a story to them.
The following are from  David Mower, a collector in the UK.
I have informed David that the model in photo 'B' based on #27 The Swan Inn, is a copy and not a Mudlen End product. ( For info. go to The Late 70's page.)
The #33 Pub in photo 'G' is an unusual and interesting item as it has an advertising stamp on the side.
The ad. is for John M.Start & Co. Ltd  Wholesale Manufacturing Jewellers.
John is a friend of our family and I recall him visiting Mudlen End on several occasions in the 70's.
It's a very interesting piece and the first I have seen.
John was a wholesale buyer of cottages from Mudlen End and supplied in turn other outlets including a seller in the famous
Portobello Road markets in London.
John started his jewellery wholesale company around 35 years ago and this stamped model was produced as a promotional item for him, dating it from around 1979. John also  had the distinction of having played the drums in the formative years of a band that went on to become The Kinks.
David has several interesting items in his collection.
Here are two #37's each with a different stamp. I had not noticed this before.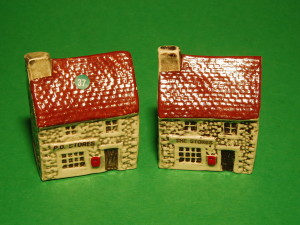 Number 32 'The Crooked House', with stamps on side wall.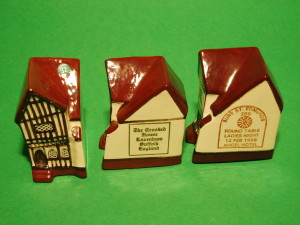 David tells me that he  found a blue #4 at a car boot sale to add to his collection. ( A good find).